Stitched in Love:
Celebrating Togetherness
Discover a collection that weaves the threads of togetherness into every design. Our children and women's clothing line embraces the beauty of unity, creating ensembles that resonate with shared moments and cherished connections.



Discover
That's how we roll for the tiniest trendsetters!!
At Petit Bateau, we believe in setting the stage for style right from the start. Our adorable and comfy outfits for babies and toddlers are designed to make them the trendsetters of tomorrow. From playful patterns to snuggly onesies, we're rolling out the red carpet for the littlest fashion stars. Dress your tiny tots in the best because, with us, they're always ready to steal the show!
Discover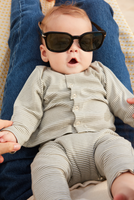 BABY AND CHILDREN'S CLOTHING AND UNDERWEAR
Petit Bateau, the go to in underwear and children's clothing,invites youto browse its online collections for birth,its quality baby and children's clothing, which accompany girls and boysin all their activities. The brand also offers its women's and men's collection,which revisits Petit Bateau basics in a contemporary and fun way!
SHOP BABY
ORGANIC COTTON
Let's do our part in preserving the soil, biodiversity, farmers' health and optimise water – organic cotton is an environmental choice.
Did you know?
Only 1% of the world's surface area is organically farmed. We had to find the best quality cotton from just this 1%!
SHOP ORGANIC COTTON
LIBERTY
OUR IDENTITY IS IN LIBERTY!
Creative like our vision of childhood, Petit Bateau is a brand that provides freedom to move!
QUALITY
WE'RE PROUD OF OUR QUALITY!
Petit Bateau has a unique quality culture.
DURABILITY
DURABILITY IS A NECESSITY!
For almost 130 years, Petit Bateau has been campaigning for clothing that can withstand the passage of time.